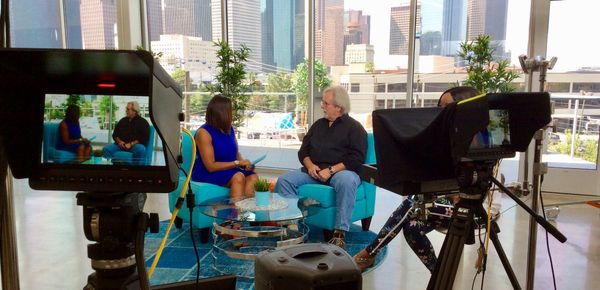 Against the stunning Houston Skyline, PCD is interviewed by host Debra Duncan on KHOU-TV's "Great Day Houston." Photo by Great Day Houston staff.
WRITER * PRODUCER * DIRECTOR * CAMERA
Paul Cater Deaton is a respected Writer, Producer, Director, and Cinematographer, from aerial to undersea. He is also known as a resourceful production facilitator all over the Caribbean and other parts of the world. The scope of production of his Global Discovery Group includes TV programming, documentaries, music videos, commercials, and more. In addition, he is a photojournalist and writer, whose work has been published internationally.
PCD is a popular public speaker and Master of Ceremonies who has presided over major events in the US and other countries. He is also a co-founder of Reef Renaissance Film Festival. His Showdown at Tiger Beach has screened at some of the most prestigious SCUBA film festivals in the world, and earned "Best Documentary Short" at four of them. Paul is a member of the Television Academy, and a National Fellow with The Explorers Club.
CURRENT PROJECTS: PCD is Production Manager for i45NOW and AMP'd, a news agency and production company, respectively, based in the Texas Gulf Coast area. He is also Executive Producer for Nassau Bay Television. Paul will soon return to the Italian Riviera to produce a follow-up documentary about Nemo's Garden, as well as to compose an article about it for Ocean Geographic Magazine. Another top secret expedition is also in the works.
Click Here for PCD-Keynote for Paul as a Speaker and Master of Ceremonies!
"It is not the critic that counts; not the man who points out how the strong man stumbles, or where the doer of deeds could have done better. The credit belongs to the man who is actually in the arena, whose face is marred by dust and sweat and blood; who strives valiantly; who errs, and comes short again and again because there is no effort without error and shortcoming; who knows the great enthusiasms, the great devotions; who spends himself in a worthy cause; who at best knows in the end the triumph of high achievement. And at worst, if he fails, at least he fails while daring greatly, so that his place shall never be with those cold and timid souls who know neither victory nor defeat." Theodore Roosevelt – 1910
About the Cover Photos
"Hyperdrive"
When imagining the cockpit of the Millennium Falcon, "Star Wars" creator George Lucas got his inspiration from the flight deck of the legendary WWII era Boeing B-29 Superfortress. When he was invited to inspect the meticulously restored B-29 "Doc," one of only two airworthy B-29s in the world, Paul knew what he had to do. Photo and composite by PCD
"Showdown One-Sheet"
His "Showdown at Tiger Beach" has been a favourite at dive shows and underwater film festivals around the world. It won three of them, and has received awards of merit in numerous categories. Having produced the film in black & white as an homage to "Sea Hunt" with Lloyd Bridges, styling the one-sheet in this fashion was the logical move. Photo and Design by PCD
"Pleasure Pier at Dawn"
As producer for Galveston Now, Paul gets to see and capture most of the beautiful things that make the island so quirky and unique. Pleasure Pier is one of the signature silhouettes on the Galveston seashore. PCD seems to have a special bond with sea birds, which never fail to add a special touch his shots. Photo by PCD
"Clown Condo"
The Philippines hold a special place in Paul's heart. This shot of an anemone and its resident clownfish and shrimp was captured off Apo Island, in the Bohol Sea, across from Dauin, Negros. This is near the epicenter of the Coral Triangle, and is a target-rich environment for underwater photographs and cinematography. Photo by PCD
"Floating Market"
In the same types of dugout canoes that they have used for generations, these Solomon Islands locals brought a flotilla of flowers and produce to the stern of the magnificent liveaboard dive boat, BILIKIKI. The chef turned this bounty into what the great Stan Waterman called, "fat city afloat." National Geographic used this photograph on their website. Photo by PCD