_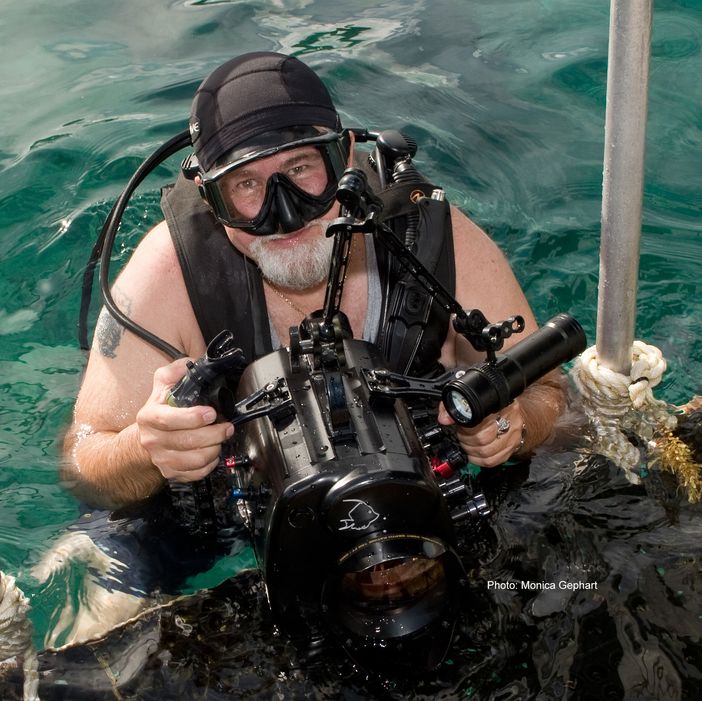 PARTIAL CREDITS:
Finding Nemo's Garden
ALERT DIVER Magazine
Writer/Photographer
Wild Honduras with Nigel Marven
NatGeo Wild (Pending)
Underwater Cinematographer
Wine Diving in Croatia
Travel Documentary
Writer/Producer/Director/Cinematographer
Risky Drinking
HBO Documentary
Director of Photography/Fixer
The Amazing Race - Season 25 Premiere
CBS Television
Principal Underwater Cinematographer
SCUBA Endurance World Record Attempt
Discovery Channel "Daily Planet" Program
Field Producer/Director/Director of Photography
"Bout Summertime"
Music Video for Jimmy Charles
Writer/Producer/Director/Camera
"Apache Star" Speedboat Run
Key West - Havana World Record
Producer/Cinematographer/Aerial
Showdown at Tiger Beach
Tiger Shark Documentary
Writer/Producer/Director/Underwater Cinematographer
Best Documentary Short - Texas Ultimate Shorts Film Festival
Best Documentary Short - Martinique International Film Festival
Official Selection - 12 International Film Festivals 
Cruise Ship Naturalist with Nigel Marven
Animal Planet (UK)
Director of Photography/Fixer
Jonathan Bird's Blue World "Invasives" Episode
PBS Series (Season 4, Episode 11)
Underwater Camera/Fixer

The Reichhold Center for the Arts
35th Anniversary Show of Support Telethon
Two-hour Variety Show
Producer/Director
The Last Hurrah
Documenting the Final Dive of Legendary
Underwater Filmmaker Stan Waterman
Writer/Producer/Director/Camera
Secrets of the Psychedelic Reef
Documentary on Coral Fluorescence
Writer/Producer/Director/Camera
The Beast is Dead
Shark Conservation Short Film
Producer/Director: Leandro Blanco
Narrator: Paul Cater Deaton
Discover Your Caribbean
Unspoiled Dominica
Caribbean Passions
American Airlines Aadvantage Milestones
Associate Producer/Fixer/Underwater Camera
It Takes a Village to Save a Reef
Shedd Aquarium Wild Reef inspired by Apo Island
Coral Triangle - A Fragile Treasure
Invasion of the Lionfish
Bonaire Amends Legislation to Fight Lionfish
The Cleaning Station - Car Wash of the Deep
Florida Mobilizes to Combat Lionfish
Stinging Cauliflower - Caribbean's Largest Jellyfish
Belize Marine Industry Responds to Lionfish
Protecting the Reefs of Bonaire
Red Sea Shipwrecks
Ras Mohammed Marine Park in the Egyptian Red Sea
Nudibranchs - Colorful and Fascinating
Pelagic Tunicates Roam the World's Oceans
Marine-related content for Ocean in Google Earth
Writer/Producer/Director/Camera
Lionfish, The Beautiful Outlaw
Marine Nature Documentary (Aired on PBS)
Writer/Producer/Director/Camera
Dumaguete 5X5
Adventure Travel Documentary, Philippines Expedition 2009
Writer/Producer/Director/Camera
Night Train to Cairo
Adventure Travel Documentary
Writer/Producer/Director/Camera

Inside the St. John Blues Festival (2009)
Multi-Camera Director
Southbound Adventures
Travel Pilot Episode
Writer/Producer/Director/Camera
Brother
Music Video
Writer/Producer/Director/Camera
Gold Addy Award
Donald Plantz Award for Best in Show Video

Egypt - Karnak to Coral Reef
Adventure Travel Documentary
Writer/Producer/Director/Camera
Bronze Telly Award
Broadcast in Bulgaria and Saudi Arabia

Sol D'el Caribe
Music Video
Writer/Producer/Director/Camera
Best Music Video, 2004 Austin Music Awards, SXSW

Bilikiki Diary - Diving The Slot
Adventure Travel Documentary
Writer/Producer/Director/Camera
Bilikiki Solomon Islands Dive Cruises
Promotional DVD
Writer/Producer/Director/Camera
Addy Award for Cinematography
With Respects: RMS Rhone
Travel Documentary
Writer/Producer/Director/Camera
Inside
60-minute History/Architecture Program for TV2 Caribbean
Producer/Director

Talk 2
60-minute Issues Talk Show for TV2 Caribbean
Producer/Director

Austin Music Network
Live Music Broadcasts
Senior Director

Willie Nelson's 4th of July Picnic 2000
Camera Operator

Dalai Lama at Austin Special Events Center 2005
Camera Operator

MAKING THE BAND III
MTV Reality Series
Production Staff

HONEYMOON ADVENTURE
Travel Channel Series
Underwater Camera
 
GEAR LIST
Sony Alpha 7SII with 16-35 mm and 90 mm glass
Isotta Underwater Housing for A7S
Sony AX100 4K Cameras (2)
Gates Underwater Housing for AX100
Deep Blue, Kraken and Amphibico Underwater Lighting Systems
Sola Nightsea Fluorescent Underwater Lighting System
Manfrotto Tripods, Various Zoom & Prime Lenses, Matte Box with Polarizer, Grad Filters
Cobracrane (Floor to 12')
Collapsible Skate Dolly
Film City Camera Cage/Matte Box/Shoulder Rig
Lilliput 7" HDMI Field Monitor
Sennheiser Evolution Series Wireless Mics (2)
Sennheiser Shotgun Mic with Pole, Windscreen & Shock Mount
Lowel 1k DP Light, with Stands and Barndoors
Collapsible Soft Box for Lowel DP
Lowel Omni with Stands and Barndoors (2)
Lowel Tota with Umbrella and Stand (2)
12'X12' Overhead with Net
C-StandsFlex-Fill Reflectors (2) and 18"x24" Flag Set
Misc. Grip, Electrical, Rigging and Expendables (Gaff Tape, Gels, etc.)
The Edit Suite is Final Cut Studio X Pro HD.
The gear package is quite compact, and was assembled expressly for travel and limited space. Perfect for international, island-hopping, and remote shoots.
A movie grip at the dawn of his career, Paul Cater Deaton is now an award-winning Writer, Producer, Director and Cinematographer. Based in Galveston, he works all over the world on film, TV, music video and documentary projects. He is Production Director and Digital Journalist with news agency i45NOW, part owner of AMP'D Digital Delivery, and Executive Producer for Nassau Bay Television, in Nassau Bay, Texas, where he often produces shows about Space Center Houston and NASA Johnson Space Center. Credits include The Travel Channel, NatGeo Wild, The Discovery Channel, HBO Documentaries and The Amazing Race. 
PCD engages in productions ranging from commercials, corporate content, music videos and documentaries to TV programs and full-length motion pictures. His work has also appeared on ABC, NBC, CBS, PBS, BBC, MTV, CMT, CNN, HBO, VH1, ESPN, Fox, Animal Planet, Nickelodeon, Showtime, TV2 Caribbean, Austin Music Network, Warner Brothers, Paramount, Tri-Star, Veronica Broadcasting (The Netherlands), ARD German Television, Planete TV (Poland), Beatty Satellite (Saudi Arabia), Proxima (Bulgaria), Caribbean Broadcasting Union, Wrangler TV, DirecTV, Bravo, Comedy Central, E! Entertainment TV, and at the United Nations. 
He was one of the original three filmmakers selected to produce for Ocean in Google Earth, creating pieces for the Red Sea, Mediterranean, Western Indian Ocean, Great Barrier Reef, Philippines, Coral Triangle and Gulf of Mexico/Caribbean Sea focus areas. 
Paul's work has garnered several industry accolades, including Best Music Video at the 2004 Austin Music Awards at SXSW, two Telly Awards, numerous Gold and Silver Addy Awards and an Addy Best in Show Video, two Communicator Awards, Videographer Award, and an Aegis Award. His Showdown at Tiger Beach has been an official selection at several international film festivals, and won Best Documentary Short at six of them. 
Deaton is a National Fellow in The Explorers Club and a member of the Television Academy, Boston Sea Rovers, Historical Diving Society, and Rotary Club. He was honored by Rotary International with a Paul Harris Fellowship in 2004.
PCD is a popular speaker and emcee, making appearances at international events. With Monica Gephart and Elena Kobrinski, he founded the Reef Renaissance Film Festival® in 2012. He is a NAUI SCUBA Instructor, and TDI Nitrox and Rebreather diver. He was certified in Global Shark Biology, Biodiversity and Conservation by Cornell University and the University of Queensland, Australia, and gave a highly rated TEDx Talk on Shark Conservation. He also received certification as a Philippines Specialist by the Philippines Department of Tourism.